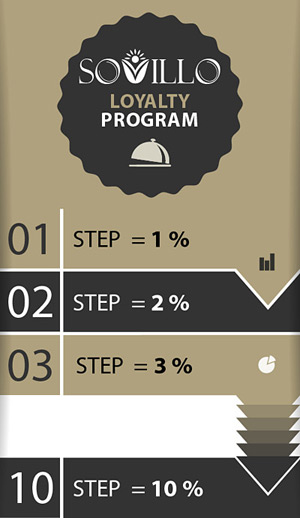 Our regular customers Sovillo program is particularly interesting for lovers of fine delicacies and specialties. It gives you the opportunity as a loyal customer to purchase at a durable low price. This value has paved the way to keep this as simple as possible.

Sovillo regulars program - good, simple, clear

In principle, our core customer program consists of 10 levels. Each stage represents a 1% discount for you on your next purchase. Level 2 = 2%, etc. until the tenth and final stage. Here everything is fully automated. After every purchase from us you go up a level up and get the appropriate discount in the subsequent purchase.

Important:

You need to simply log in to your account to see your discount according to your page. Only then the reduced prices for your next purchase can be viewed apparent.