More info
Therefore this oil tastes excellent with salads, soups, pasta dishes and sauces. But especially sweet dishes, like parfaits, fruit salads, crepes and cakes will get a really great taste whith it!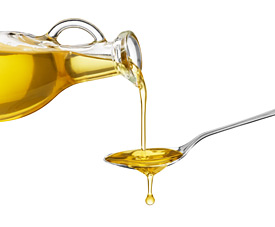 Just the best hazelnuts from the region of Piedmont are used for the production of this oil specialty (these hazelnuts have been awarded the designation 'protected declaration of origin' of the European Union). The round hazelnut called 'Tonda Gentile delle Langhe' is cultivated for centuries in the Piedmontese hills. Because of its outstanding aroma and quality it is a worldwide appreciated delicacy. Since 1993 the hazelnuts from the region of Piedmont are offered under the controlled quality mark of 'Nocciola Piemonte'.
Piedmontese Hazelnuts are cultivated between 250m and 700m above sea level in 43 Piedmontese communities (the area under cultivation is about 2350 hectare). This altitude offers the optimal climate for the hazelnut trees. Also essential for the excellent quality of the Piedmontese hazelnuts is the limitation of 400 plants per hectare.
To get the full aroma the hazelnuts are gently toasted before pressing. The oil is a 100% natural product without any additives.
We recommend to keep the oil well closed and away from direct sunlight.
Ingredients:
Obtained exclusively in mechanical process without chemical or other extraction.
100 % oil from peeled hazelnuts.