More info
The excellent and very rare oil of the tiger nuts offers a deep golden color. Its delicate aroma is ideal accentuated by toasting them very gently before they are cold pressed.The natural oil does not have any additives and derives entirely from the first pressing.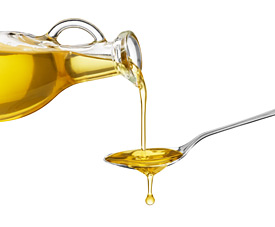 Tiger Nut Oil tastes excellent with desserts, pasta dishes, soups, flavorsome sauces, fish and of course with various salads.
The tasty and healthy tuber of the tiger nut plant (cyperus esculentus lativum) has been already cultivated for a long time in Mediterranean and Northern African areas.
In Africa Tiger Nuts are also eaten because they are rumored to be an aphrodisiac. Also they say that they should have an balmy effect on inflammations of the respiratory tract as well as they are recommended against indigestion.
Tiger nuts do have a high amount of vitamin E. This is also a reason for the long shelf life of the oil.
We recommend to keep the oil well closed and away from direct sunlight.
Ingredients:
Obtained exclusively in mechanical process without chemical or other extraction.
100 % oil from dried tigernuts.
May contain traces of nuts and sesame seeds.