More info
Waldviertel Grey-Poppy-Seed Oil is known for its typical pleasant earthy poppy-seed flavour and tastes great with soups, sauces, salads, noodle dishes and many desserts like cakes and cookies, pies and crêpes.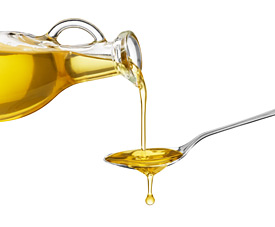 The "Olive Oil of the North" is a rare oil specialty. The oil derives entirely from the first pressing. It is a totally natural product without any additives.
Waldviertel Grey-Poppy-Seeds have been cultivated for centuries in the northern region of Lower Austria. Until 1933 Waldviertel Grey-Poppy-Seeds were listed at the London Produce Exchange as a quality brand, which proves the long and successful tradition of cultivating poppy-seeds in the Waldviertel.
As a regional specialty Waldviertel Grey-Poppy-Seeds were awarded the designation "protected declaration of origin" by the European Union, which only a few selected regional delicacies have received so far.
We recommend to keep the oil well closed and away from direct sunlight.
Ingredients:
Obtained exclusively in mechanical process without chemical or other extraction.
100 % oil from grey poppy seeds.